Snowboard Colorado magazine just did an 11/12 board review in their latest issue that includes the Dinosaurs Will Die, RAT board.
Pick it up if you're in CO, or have a click on over to their site to see what else they have going on.
www.snowboard-colorado.com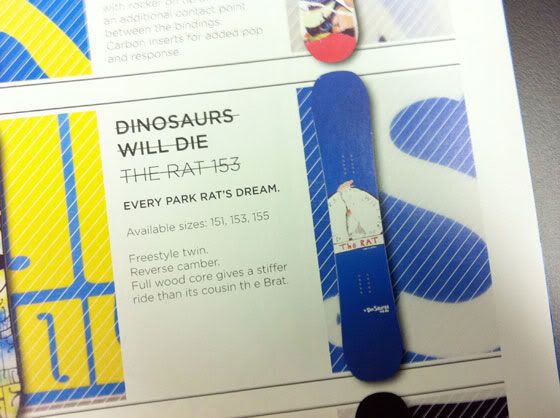 Once you've decided that the RAT is the board for you, race you're ass to the nearest DWD dealer and pick one up. "Where might I find a list of such progressive shops like this?", you might ask yourself. Well, with the magical click of a button you can find out right HERE.
And if you're in Colorado we'll make it easy for you today.
Vail Skate Supply
616 West Lionshead Cir. #202
Vail, CO
(970) 476-1550
www.vailskatesupply.com
BLACKLIST
919 16th St.
Greeley, CO
(970) 353-5000
www.blacklistcolorado.com